Creativity is at the heart of everything, and this last week, Robyn (@therobynmason) and I, we have been attending the Media Festival at Leeds Trinity. There have been some incredibly interesting and creative speakers. If you want to read about them, stick around.
DAY ONE OF ATTENDANCE (From Robyn's POV)
On Tuesday, both Robyn and me, we attended a workshop on Mixed Reality Game Cards, held by Richard Wetzel.
We were told to get three opportunity cards, and one Dixit card (which was just a weird picture you had to incorporate into the idea). The idea is a lot like writing prompts, which I'm familiar with. You have to make as creative an idea as possible, and possibly expand on it later. The one that my team decided on was:
Now, with any prompt, you're never really sure what to do with it. No one looks at a set of cards like this and immediately has a eureka moment. When given three minutes to work it out, though, you get enough motivation to at least try. My approach was to go as simple as possible. Though a worldwide idea may strike you as not necessarily 'simple', with the other ideas going on my head it was the simplest. I'm creative, sue me.
And that's what this week of media is all about! You have to be creative to get anywhere. You have to think outside the box. That was the moral of the game I created too, but it applies to everything we attended. It all comes back to creativity. After all, if you aren't creative, you can't create a game. And if you can't create a game, you're not going to make it anywhere in that side of the media.
This session was a lot of fun, and if you want to have a look at more information about the Mixed Reality Game Cards, here's a link.
DAY TWO OF ATTENDANCE
On Wednesday, I went to an interesting workshop on 360° games. We mostly worked with 360° images, making them interactive, leading to other sites and things, like the interactive image I have inserted into this post. As well as this, we were shown what it was like to be inside one of these games:
It was entertaining to watch all of these people experience the 3D game from the outside. To us, it just looks like a picture, but for them, they are completely immersed. One man nearly fell over, and I'll be forever upset about how I didn't get a picture of it.
Again, this workshop all came down to creativity. After all, they aren't really there, in this place, doing the things they can see. In reality they're just stood in a lecture hall in Leeds Trinity University with a phone attached to their face. It's all about creativity. Without it, they'd be stuck in that room, instead of exploring the one on the screen.
Where do you think you'd go, or create if you could choose?
MY EXPERIENCE
If creativity is indeed the key to success then with our imagination we can open the door to endless possibilities.
At Leeds Trinity Media Fest we had amazing opportunity to listen to people's stories and how they changed their ideas from a single spark to a burning flame.
For example, Daryl Peel (@DarylJohnPeel) talked us through his 'Revenge of Dr Moreau' escape case that took the important details about the story-line from a movie  'the Island of Dr Moreau', but you don't have to watch it or know it before starting the game.
It took a lot of work but at the same time he had an idea and he made sure to include even the smallest detail that would make the experience of a game better for the players like carrying about 'the year' the case is from. Every single thing in the case had its purpose.
Daryl Peel with his 'Revenge of Dr Moreau' not only gave us the possibility to spend time in a creative way (because the beauty of his idea is that to complete his challenge you also need to put the effort in it to find the answer) but you also learn from it.
Daryl Peel also said that you should go crazy with your idea and you shouldn't keep it to yourself. If you did something worth sharing with others go for it! Just like him. Daryl Peel admits that sometimes he takes his case and leave it somewhere until someone asks him about it, and then when they open it the clock starts ticking. They get stuck into the game and they can't help but want to finish it.
In this simple way, Daryl Peel can make his audience bigger. What a great example of thinking creatively!
*
On the other hand, we've got Andrew Walsh (@andywalsh999), that while working with his students he lets them express themselves, open for them to also make their ideas come to life.
Andrew Walsh, before talking to the audience at #EscapeHE, passed a prototype of his own workbook to every table.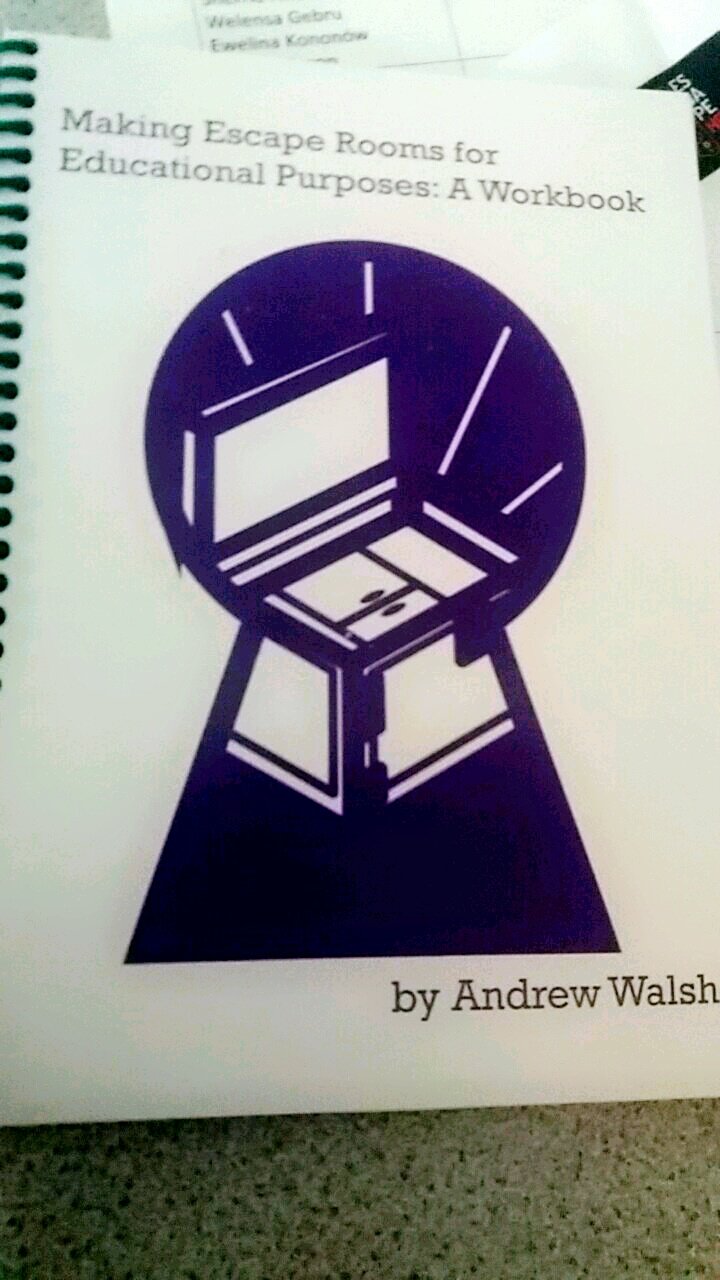 I loved that he started with asking what the names of his children are. Weird question, right? But the thing is that he asked us about it because he hid it in the dedication at the beginning of the workbook. One name was easier to find than the other, and it was a nice touch to start his lecture.
For me, it was a really great and creative way that is perfect for a book named 'Making Escape Rooms for Educational Purposes'.
Another useful thing that we could find inside this workbooks is that there is a lot of empty space for our own ideas. This book not only helps us to understand how to make escape rooms work but also leaves space for our own conclusions.
It was an honour to be able to use this before it is actually published to the public.
*
Thursday at Leeds Trinity Media Fest was a day full of social media talks.
It was interesting to see that every speaker has his own way of approaching the audience.
The day starts with Dan Taylor (@danny_taywitter) talking about SEO which is search engine optimisation. And I am sure that most of the people do not think 'Oh yes SEO talk, this is going to be awesome and interesting'. Of course, knowing SEO is really useful, especially for people like us, bloggers, but not necessarily the most interesting topic that there is. So it was actually a surprise when I saw the first slide with a unicorn on it!
And then there was another unicorn as well.
It really intrigued me that someone found a way to put unicorns and SEO in one thing!
But Dan Taylor did not only talk about unicorns but later put a donkey that had a plunger stuck onto his face. Because of the picture and the thing that Dan Taylor was talking in that exact moment, the first thing that came into my mind was 'Add value to the content, be original, Be a UNICORN in a world where it is easier to be a donkey'.
It was something that I did never thought that I would think… Like ever…. ever in my life.
Dan Taylor did use also different pictures as well. Going far away from the rainbows and unicorns we had more fandom things that spoke to my fangirl heart. I am a big fan of Harry Potter, a Potterhead if you please. So the use of Dumbledore was something that I could really appreciate! Look at his face. SEO is serious stuff, same as when someone puts your name into the Goblet of Fire!
Is that all? Of course not! While Dan Taylor was talking about site speed he used flash and a slide with the text 'Too many algorithms' had a sad Pikachu! Because why not? It was a nice way to make people remember what was in Dan's lecture. First you have the picture of the donkey, then it comes to you what it meant!
It was an A+ creative way to share information.
*
The next speaker was Liz Cable (@lizcable) with information about social search and listening.
Because she is our tutor as well, we had the pleasure to learn from some of the things that she was sharing that day. We also found out new interesting things as well. The key information from her was to
1. Listen
2. Identify
3. Focus
4.Engage & Repeat.
Before Liz Cable started to speak, she gave to the audience 'Virtual Peer Map'
While speaking she was at the same time talking about some of the useful websites, as well as showing us how they work.
We did not only get names like socialmedtion , klout or hashtagify.me  but she did also she talk us through it, showing us the details.
If you want to look at the live video of this, then there's a link on the picture at the top of this post! Try and think about how you can apply creativity to it. After all, you can do it with anything.
*
Bob Walmsley definitely had a different approach than others because he said that he did everything that we shouldn't do. Of course he learned from his mistakes. He also had an idea for himself even it is not really what we were told before. He even said that we should listen to Liz's advises not necessarily his.
Bob Walmsley's YouTube account look really plain but even so, he did succeed.
Bob Walmsley showed us his work and his 'Big Break' and what happened after that and somehow they found him and his effects were used on Broadway.
He was not only talking about himself but also included Mahir Cecen on YouTube that has millions of views and all he is doing is showing how to make different kinds of paper planes. Talk about creativity!
He does not even say a word while doing them, and still with his idea and concept he has this large audience! His creativity in making the planes is clearly enough.
OVERALL EXPERIENCE: CREATIVITY IS KEY
It was incredibly interesting to see so many people's opinions on what you should do in order to be successful. It all comes down to creativity, though. If you aren't creative, you aren't going to get far. Without thinking outside the box you're never going to do anything new. Being new, current, and fresh are key for getting people to notice what you do. Recycling all the same old things will get you nowhere!
So, be creative, don't be held back by imaginary boundaries, and make things happen.