Illumicrate is a subscription box that you receive once in 3 months. Illumicrate is a company in the UK (but it ships internationally). It is my first box from them that I receive and actually it was by accident when I was trying to order it 3 months ago and I forgot to cancel it later when I tried to save money. Somehow my boyfriend didn't notice that he lost £30. (what is the price of the box) I might admit that it was a nice surprise to go back after a hard day with subscription box waiting for me to open it. It felt like guilty Christmas.
So that is how the box of goodies looks outside 🙂 I really like the logo but my heart will be forever with Fairyloot (another subscription box with base in the UK) since it was my very first box I ever received.
Bare Necessities Pouch by Literary Lifestyle Company 
So this is inspired by Jungle Book and may I say that I love the graphic and a quote in the bear? It looks lovely! I went also to check out Literary Lifestyle Company and Oh my, they have amazing fandom stuff. I like the pillow with A Court of Mist and Fury quote (not surprise since it is my favourite book!) so I am happy that inside this item was -25% discount! I am pretty sure I will use rather sooner than later.
A Darker Shade of Magnets by Her Bookish Things 
I love what Her Bookish Things did there with the name with Magnets (because duh, those are magnets) instead of Magic like in the book title. I guess this one fandom stuff is there because not long ago they published the last book in the series – A Conjuring of Light.
V. E Schwab is amazing person really busy one as well with writing amazing books for us book lovers.
Magic and Mischief Balm by Bookish Serendipity Co
At first, I didn't notice it under this yellow thing that you can see in the photo. 🙂 Good thing that I didn't throw box to the trash with it!
A balm is one of those things that are always useful. So this is one is actually all-natural, handmade product that my lips are happy to use 😉
Thanks, Bookish Serendipity Co  🙂
Bookmarks 
There were 2 bookmarks but designs on them were not by made by the same person. The one on the left is by Jane's Tiny Things. I love that one and I am currently using it 🙂 If you don't know it is Newt Scamander from Fantastic Beasts on it! My Hufflepuff sweety. He is so pure and having a bookmark with him is AMAZING!
The bookmark on the right is one of the extras that were in the box.
Flame in the Mist Sampler 
I didn't yet read anything by this author even if I relly want to but now I am waiting till April for the cover change of her first series! I am looking forward to reading the sampler but I am afraid I would not be able to wait till I will be able to buy and read the whole thing! I heard amazing things about her. This title will be released on May 18, 2017 but you can pre-order it even now 🙂
Gilded Cage Postcard
It is a postcard about Gilded Cage book from The Dark Gifts Trilogy. It is actually the first time I hear about this book or series but It looks interesting. If you want to check this one out and find out what this book is all about just click 🙂
A modern Britain
An age-old cruelty
Special advanced reader copy of Red Sister by Mark Lawrance 
Yep, It is still one of extras not the main book of this box! But look at it! How hudge it is! Bigger that the right book. It is also not the final cover of Red Sister. The book will be realasted April 6 of this year but you can pre-order it right now!
Aaaand finally 
Wintersong by S. Jae-Jones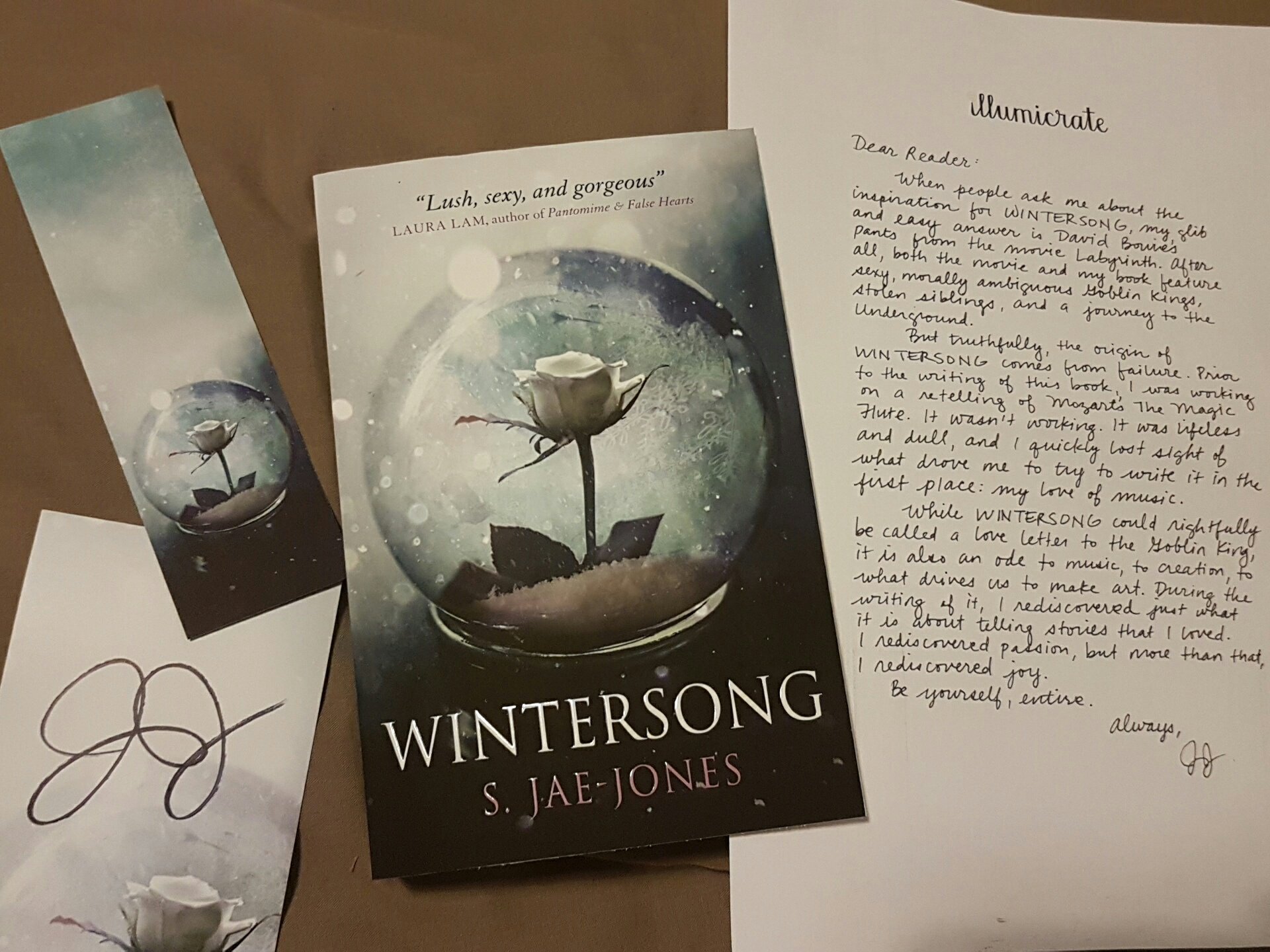 I already read this book. This is my second copy and since I loved this book so much and I had it everywhere with me condition of my first copy is not the best so I am SOOO HAPPY that I can replace it with this one. Especially that in the box we also got signed bookplate, bookmark and of course letter from the author. I am so in love with this author writing. There are darkness and raff beauty. I rated this book on Goodreads 5 out of 5. Worth it!
Wintersong is inspired by the movie Labirynth with David Bowie in it! But it is also a story about so much more. Love, family, music, romance etc. I can't wait till the second book will be out. I need it.
OK, Guys, That's it. Tell me in the comment did you like Illumicrate 🙂