I know it is kind of too late for that but… Here I am 🙂 February had only 28 days but still, I read 8 books so overall I am proud of myself. I may add that some of those books were big. (But I like big books and I cannot lie 😉
Crooked Kingdom by Leigh Bardugo
It is the second book in duology 'Six of Crows'. On Goodreads I gave it 5 out of 5 stars! Totally worth it! I did a full review of this book if you want to know more about this amazing book!
 Illuminae and Gemina by Amie Kaufman and Jay Kristoff
I had an amazing time reading those. I might say that I am not the biggest fan of sci-fi books but sometimes I am able to find books like those and I am not sure why I did not pick it up earlier!
Illuminae is the first book in the series and OK, it is a big book but It is a fast-read. Why is that? Because this book is told by all kind of files. Some pages include only imagines. I was intrigued but also a little bit skeptic about it. I was thinking that because of the form of this book I would not be able to connect with main characters, but Oh, I was so wrong.  I care about what happens to Kady and Ezra.
The year is 2575, and two rival megacorporations are at war over a planet that's little more than an ice-covered speck at the edge of the universe. Too bad nobody thought to warn the people living on it. With enemy fire raining down on them, Kady and Ezra—who are barely even talking to each other—are forced to fight their way onto an evacuating fleet, with an enemy warship in hot pursuit.
But this story is about so much more. Kady is separated from her parents and ex-boyfriend. She is alone after one of the spaceships not longer exists and all people that were on the board are dead. No one is giving her information she wants, she is about to hack the system and find them by herself. She team-up with someone.
Turns out, that there is also a plague going on. Things are not looking pretty. This book reminded me a lot of the movie 28 weeks later. (yeah, I don't know why but I had more about 28 weeks vibes and not 28 days.) Don't get me wrong this book does not include zombies but the plague has it owns ugly effects.
The villain of this story is actually one of my favourites and guess what? he is not even a human being.
The story keeps you and you just needed to finish it ASAP. I would recommend this book to read. I rate it 3/5 stars. Which might not be as much but I still had a good time and I bet fan of Sci-fi will appreciate this series. I myself can't wait till book 3!
Gemina is focused on other characters but we do see some of them from the book 1 since the storyline is connected.
The thing what was better in Gemina was the fact that Marie Lu did amazing drawings for that book. She is so incredibly talented not only with words.
I also enjoyed this book even more than I did the first one. Some people had issues about the romantic interest in it but I found it interesting!
I will not go into a review of this one because I do not want to spoiled the first book!
The Beauty of Darkness by Mary E. Pearson
This is the last book in the series. I feel sad even thinking about it. I remember reading the first book The Kiss of Deception and waiting till book 2 to continue with the story. And of course, The Heart of Betrayal left me stunned. I needed to read it ASAP but ordering from the USA is expensive and I wanted my books to match so I waited till I would have enough money.
The Beauty of Darkness is the third and last book in The Remnant Chronicles. This series is the first one by Mary E. Pearson that I actually read but I am sure it is not going to be the last one!
If you don't know anything about the series:
There is a princess, prince, and assassin. If reading that you think you know how the story goes. Let me tell you, you don't! First Book 'The Kiss of Deception' was all about it if you are able to recognize the assassin? I couldn't, could you?
A princess must find her place in a reborn world.
She flees on her wedding day.
She steals ancient documents from the Chancellor's secret collection.
She is pursued by bounty hunters sent by her own father.
She is Princess Lia, seventeen, First Daughter of the House of Morrighan.
 Maybe Someday by Colleen Hoover
(Remember that this is a polish version of the cover. It will look different in UK or USA!)
I am pretty sure that this is my new favourite book of this author. As always it was fast-read. Once I started I couldn't let go.
The story is about Sydney and Ridge. She just found out that her boyfriend is cheating on her with her roommate/best friend. Sydney has no idea what to do. But her kind of friend – Ridge is there to save the day. Kind of! 😉 Because Maybe Someday is not about romance with that simply plot!
Before Sydney became Ridge's roommate they shared something. The love for music. She writes lyrics and Ridge play the guitar.
(this book actually include the lyrics and while reading them you can visit the website and listen to them at the same time!)
Sydney for a long time has no idea that Ridge is deaf. She is learning his way to listen to music. They work together but what if emotions will come into way? Ridge has a girlfriend that he truly love. Is there a way that everyone would get their happy ending? Read and find out.
I rated it 4.5/5 on Goodreads.
Caraval by Stephanie Garber
I had the pleasure to met the author. If you want to read about book signing of Caraval feel free to do it 🙂
Caraval is a performance that takes place only once a year and lasts for a week, where the audience participates in the show.
'Caraval is Magic. Mystery. Adventure.'
It is also a story with the perfect amount of romance in it! More important in here is a sister love.
You must remember that no matter what it is just a game…or is it? Find out on your own if you still didn't reach for this book.
I rated Caraval 5 out of 5 stars on Goodreads!
Empress of a Thousand Skies by Rhoda Belleza
It is the book from Fairyloot subscription box. I really like the cover. If you would look closely you can notice the face of a girl on the planet.
I rated this book 3 out of 5 stars on Goodreads.
Princess Rhiannon is the last one living person from her dynasty. She was waiting till she will reach the age of 16 to become an empress and finally get her revenge.
In the story, we also follow Alyosha. He is a  refugee but he is trying as hard as he can to be the perfect citizen and a soldier. Despite his hard work and popularity, Aly struggle with people that are anty-Wraetan.
When there was a plan to assassinate Rhee on her way to coronation she bearly survive. But people are sure that she died. She is in hiding (or is she?) planning how to take back her throne.
Wintersong by S. Jae-Jones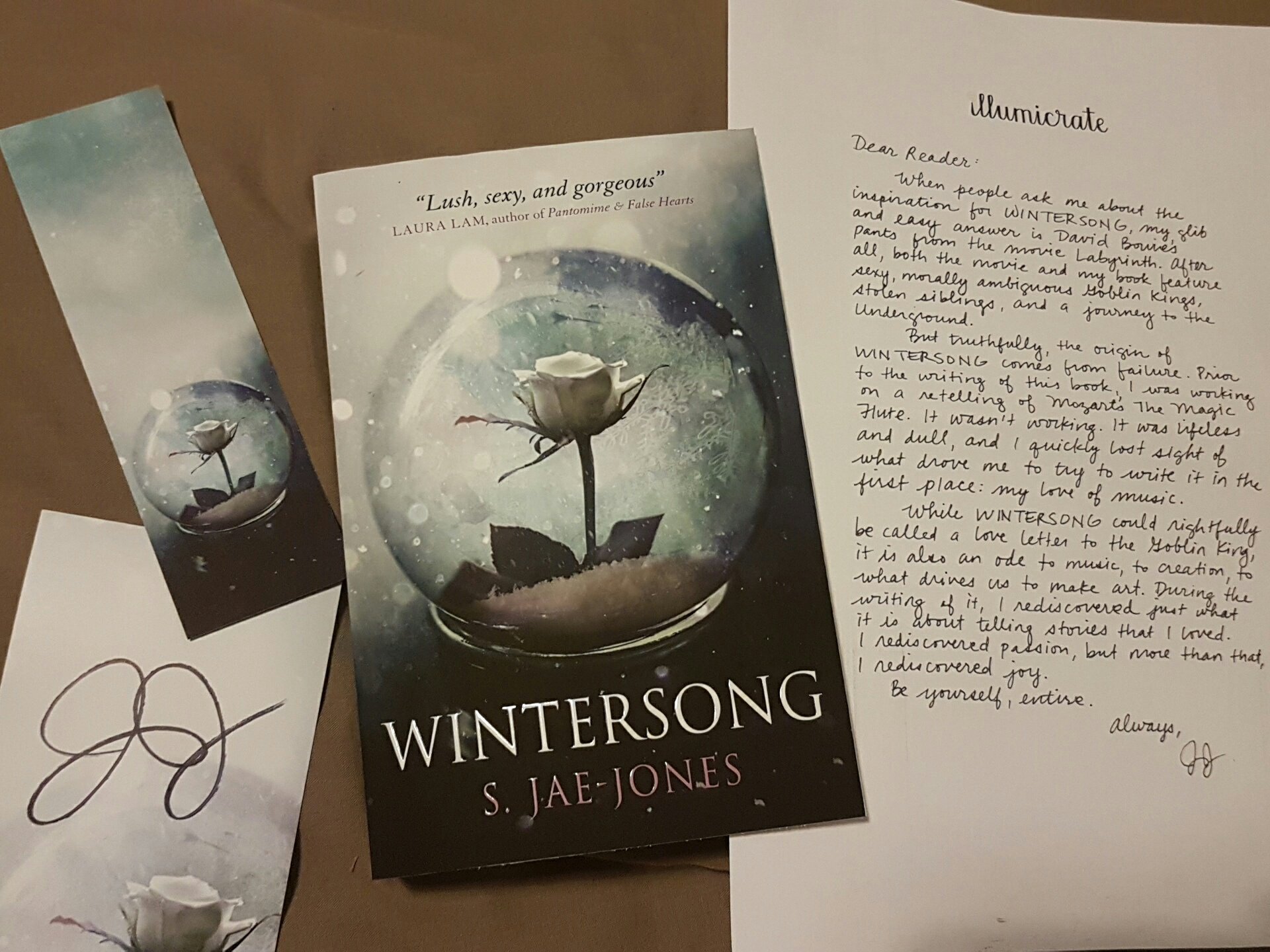 This book was in February Illumicrate box.
The cover is so gorgeous! You can't convince me it's otherwise. Look at it.
When I first heard about this book I was intrigued because It's some kind of retelling of the movie Labyrinth with David Bowie in it.
Beware the goblin men and the wares they sell.
Our protagonist is Liesl. She's 19 and from as long as she remembers she heard about the Goblin King. There was a time that she believed in him but at her age, she should leave the fantasy world, yet a part of her still can't let go.
Liesl is an older sister, really caring one. She loves her brother and sister, but she loves music as well. Liesl was so focused on her brother and his music that did not notice that her sister is not happy with her life. One day Goblin King is kidnapping Liesl's sister and to save her our protagonist needs to visit Underground and find her sister before it will be too late. The problem is that Goblin King can play with people's minds and control the time.
I myself reading this book felt with S. Jae-Jones's writing style. It is dark and beautiful. If you would like Wintersong I guess you would like The Darkest Part of the Forest by Holly Black as well.
What did you read in February? 🙂